The Hospital, Medical and Healthcare Industry has widespread use of Stainless Steel Medical Trolleys. Stainless Steel Products are typically used by Hospitals particularly in areas and applications where sterile environment or a high degree of hygiene is required. These trolleys need to have versatility to be used within various hospital settings allowing the staff ease of access to all required tools and equipment in convenient locations for responsive applications.
This requires equipment specifically designed to balance efficiency with hygiene, and stainless steel medical trolleys are utilised within hospitals across Australia because they excel at this.
In this article, Emery Industries aims to break down the different types of stainless steel trolleys found within this setting as well as the undeniable benefits of Stainless Steel.
Identifying Hazards in Healthcare
One of the common workplace injuries within the Healthcare Sector is lifting, supporting and moving.
Often, such injuries occur in hospitals and healthcare settings when employees have to lift, move or twist patients, heavy objects, or bend, twist, or reach a lot. Work like this can lead to musculoskeletal disorders like sprains and strains to the back and shoulders. Typical examples are transferring patients from bed to chair and handling trolleys, equipment and wheelchairs.
Hospitals mainly use Stainless Steel Trolleys because of their quality and highly resistant steel material.
The diverse application of their material, coupled with the opportunity to manufacture various sizes, shapes and styles makes
Stainless Steel Medical Trolleys a cornerstone of modern medical equipment and there are some undeniable benefits of this.end, twist, or reach a lot. Work like this can lead to musculoskeletal disorders like sprains and strains to the back and shoulders. Typical examples are transferring patients from bed to chair and handling trolleys, equipment and wheelchairs.
Benefits of Stainless Steel Medical Trolleys
Longevity
If Medical Trolleys are made of Stainless Steel, then they last for a very long time. These trolleys are strong, durable and they do not rust unlike trolleys made of iron, which tend to rust. If these trolleys are made of wood, they would be impervious to any fluid, such as water and liquid that are dropped repeatedly on surfaces, therefore it is a high probability of timber rotting and affecting the longevity of the unit.
Sterility
It is essential that Hospital Trolleys feature an anti-microbial surface. Trolleys that are made with other material that is not stainless steel are a good breeding ground for bacteria and thereby compromising the cleanliness and sterility of the trolley. In case of spillages, these tend to attract fungi, mould and rot as well.
On the other hand, Stainless Steel rejects liquids, rather than absorbing them, so maintaining sterility and hygiene is easy with a simple clean. Using 304 Grade Stainless Steel assures that the non-porous surface will not retain any bacteria and will not break down over time. All of Emery Industries equipment is ergonomically designed and manufactured to be easily cleaned and sanitised without compromising on functionality.
Transportation
Medical Trolleys are useful in transporting necessary items such as dressings and instruments. The Medical Trolleys can also be used as portable storage solutions for offices, nurses' stations, etc. Medical trolleys also offer a safe and reliable mode of transport for many items or instruments at once. It is essential to be able to transport instruments safely as some may be sharp posing a safety risk to staff or the items need to remain sterile. In addition, Medical instruments are high value items therefore need to be transported within Medical Trolleys that offer low risk for either damage or replacement.
Diverse and Multi-Purpose
Medical Trolleys are available in a broad range of sizes and styles. This allows each facility the freedom to be able to purchase an item that perfectly suits their environment and intended use.
All of Emery Industries Trolleys are fit for multi-purpose; assuring that each item can be used in almost any industry. By using Stainless Steel, trolleys can be manufactured into many diverse shapes and sizes whilst having a high level of structural integrity.
This diversity and flexibility branches into the next benefit of utilising stainless steel in the hospital settings.
Customisation
In instances where the trolley needs specific customisation for unique requirement or needs, trolleys matching certain dimensions or criteria, Stainless Steel allows this to be crafted with ease without forgoing any structural integrity or sterile requirements.
Different Types of Stainless Steel Trolleys
Mayo Trolley
A Mayo Trolley is like a work surface that the surgeon and scrub nurse work from.
Each Mayo Stand is covered with a Mayo Cover, similar to a pillowcase, the Mayo cover has an absorbent area where surgery is conducted.
The height is adjustable with the table surface made of Stainless Steel frame and detachable Stainless Steel tray to contain surgical instruments selected for use during surgery.
Instrument Trolleys & Dressing Trolleys
Dressing Trolleys designed with large braked, swivel directional castors make the trolleys easy to move, thus reducing the risk of injury for clients and staff. In addition, soft drawer closures provide quiet closure of drawers, just like in high-end kitchen designs, this enables patients to be undisturbed during care and recovery, an extra added bonus with soft drawer closures is they provide further safety stopping the drawers opening when the trolley is being moved, this feature eliminates drawers flying open and potentially causing injury. These two features make this trolley suited for the demands of busy hospitals and doctors' practices while an Instrument Trolleys is used to transport sterilised instruments to the Operating Room.
The lower shelf height is set to 300mm from the floor to support OH&S requirements to minimise bending/lifting exposure and eliminate staff kicking shins on the bottom shelf when the trolley is being moved. Another standard feature is side and back rails to prevent items falling off the shelves. Rails can also be used as handles for easy manoeuvring.
Precision ball bearing castors: Precision ball bearing castors enable the weight of the unit to be absorbed by the bearing allowing the unit to be able to be moved with minimal effort.
Full Extension Ball Bearing Drawer Runners: Full Extension Ball Bearing drawer runners provides easy gliding of drawer movement, this allows full access to the contents of the drawer with ease. These drawers will not fly open when the trolley is moved.
Curved Handles: This units large curved handles are entirely smooth to minimise infection control and make grasping easier and for safety reasons our products have full safety folds that is standard on all our products.
View our Instrument/Dressing Trolleys
Anaesthetic Trolleys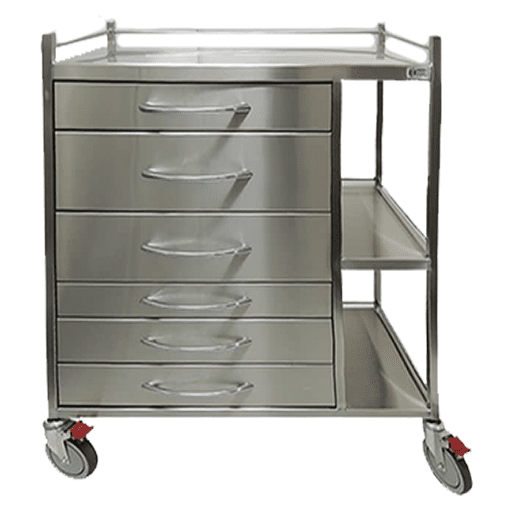 Anaesthesia carts provide a highly manoeuvrable and stable work platform for your Anaesthetic Technicians. With a large array of available accessories, the Anaesthesia Carts offer an incredible amount of customization for just about any need. Whether it's tilt bins, tape dispensers, catheter holders and scope safes.
Emery Industries Anaesthetic Trolleys offer full-extension ball-bearing drawer runners designed to protect contents impact damage, precision ball bearing castors that enables the weight of the unit to be absorbed by the bearing and then assist the unit being moved with minimum effort and an option to have chart and glove box holder.
Resuscitation Trolleys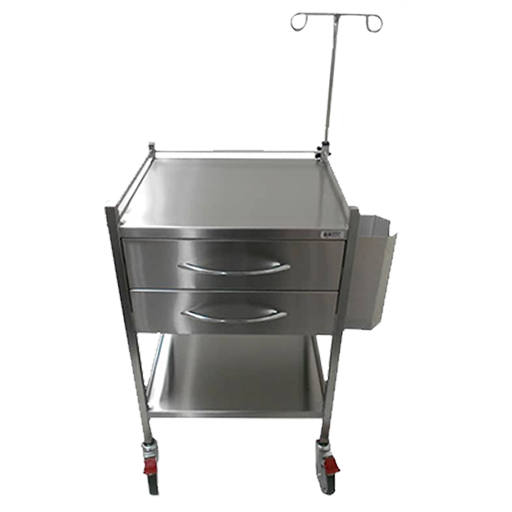 When it comes to crash carts in hospitals, you want the guarantee that you are getting the very best reliable equipment for the task. Be prepared in a crisis this highly manoeuvrable and stable work platform for your emergency response team. Available accessories to further customise this equipment are sharps container holders, Swivel Defibrillator shelves, Suction trays and a wide assortment of pharmacy trays provide a great deal of design flexibility.
View our Resuscitation Trolleys
Linen Skips
Hospital laundry trolleys and carts allow staff to easily collect and handle soiled and used linen items, such as sheets and pillowcases, blankets and gowns. Linen skips are available in a lightweight Stainless Steel construction with a foot-activated lid allowing for hands-free, practical and hygienic operation.
Emery Load Reducing Linen Skip design is the OH&S Preferred Option due to reduced risk and reduced work place injury. The reason for this is they are hard to be overfilled and they are made with a higher working platform level for emptying the bag; both of these features decreases the risk of overfilled linen bags which in turn lessens the weight being lifted and therefore reduces risk for end users.